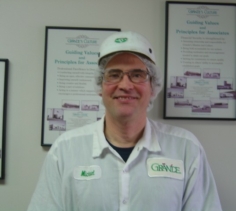 Fall of 2015, Michael Ninichuck went into his shift just like any other day; little did he know, his life would be drastically changed. He had felt slightly under the weather for a few days, but nothing too serious. He had a low grade fever and felt fatigued. He decided to go to the Health and Wellness Clinic in Juda to see what was wrong.
Michael saw Amy, the nurse practitioner, where she completed a physical and took some blood samples. Amy told him that she would be in contact with him in the next 24 hours.
Amy called Michael about 15 hours later and told him that he needed to drop whatever he was doing and rush to a hospital. Michael was sent to UW hospital in Madison where they admitted him right away. "When I got to UW, I was seen by an oncologist and ended up having between 50-60 different tests , and about 20 hours later, I was told that I had cancer, Non-Hodgkin's Lymphoma." Ninichuck said. The doctors at UW had him clear his schedule so they could proceed with performing surgery and a bone marrow biopsy.
During his time at UW, he had blood transfusions and chemotherapy. Treatment lasted a few months. "I am currently now in remission. But going in regularly to monitor any changes at UW; practicing being proactive versus reactive." Ninichuck said.
Michael recommends the clinic to all Associates for the ease of scheduling and that is at no cost. "Overall I had a very positive experience with the clinic. Had it not been there and so easily available to use, I may have tried to just let symptoms pass and not try to treat anything" Ninichuck said. Michael's story is a great example of why the Grande Health and Wellness Center is so important to Associates. Although his symptoms were minor, he was able to diagnose early on and get it treated before it was too late. The clinic was there for Michael when he needed it most.
The Grande Health and Wellness Center thanks Michael for sharing his story. If someone else has a success story about their experiences at the Grande Health and Wellness Center contact us at920.269.7200or email us at GrandeHealthandWellness@grande.com